Happy Autumn, Everyone!!!
It's my favorite time of year. Leaves are changing to beautiful reds, yellows, and oranges, and the temperature sits at a comfortable hoodie level. I also love the sound of leaves crunching under my boots as I make my way to school. And biking is perfect because you don't show up at your destination looking like a sweaty mess (not that that has ever stopped me).
This autumn has been filled with classes, brains, and yoga. I'm actually enjoying my classes for the most part. Turns out when you kinda understand what's going on, the material isn't so bad. Who knew? The brains are coming along, one voxel at a time. And the yoga is great right now. I'm having a blast leading my boot camp at the yoga studio, and then teaching a heated vinyasa class as well as a slow flow class. All the students are so much fun. Even though they glare at me as I make them hold a plank for balance on one leg for too long, I know they are glaring with love. *gulp*
All this teaching also means I'm constantly surfing around for new music. My latest find is this:
What can I say? I'm a sucker for some Kelly Clarkson. And I'm a sucker for a duet. The song has a single verse that gets repeated the entire song, but it's catchy and I find myself rocking out to it far more than I would like to admit… (maybe it's playing right now… maybe…)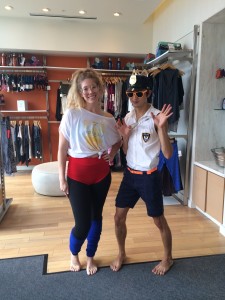 Quickly back to yoga: I taught my boot camp on Halloween, so clearly I needed to dress up. Sadly, I'm fresh out of drill sergeant costumes, but I did have my "sexy cop" outfit from my Jeerleading days. So pulled that out of the closet and had some fun getting my students ready for the zombie apocalypse by having them do many burpees and lunge kicks. (if you can't tell, I'm posing with Jane Fonda). Needless to say, my students were ready to take on the hoards of creatures roaming St Louis streets last night. (and yes, I was one of the creatures roaming around the central west end… guess what I was!)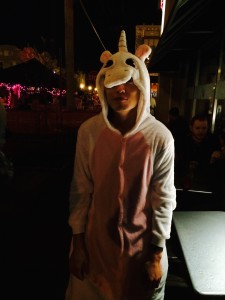 Autumn also means delicious comfort foods like pumpkin pie, warm apple cider, and roasted root veggies. Delicious! But, this post's recipe has none of those. Nope. This recipe was chosen because of a memory of when I baked mini cupcakes for my brother's Latin class during their midterm exam.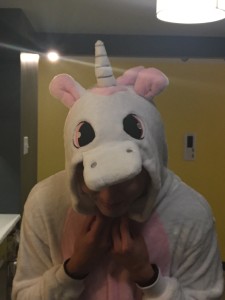 Sadly, I have NO idea what I baked for that class. I just have a vague memory of it being spicy and may have had carrots or apples in the mix… Anyway, I wanted to try to make a spice cupcake again, so I did! And because pinterest has been showing me lots of caramel frosting recipes, clearly the spice cupcake needed caramel frosting. I didn't know how the combo would work out, but I think it turned out pretty deliciously. At least, people said they were good. Then again, they may have been biased cuz they know me and I was standing right there when they ate it… whatever!
Autumn Spice Cupcake with Caramel Frosting
cupcake recipe from this
frosting recipe from this
Cupcake Ingredients: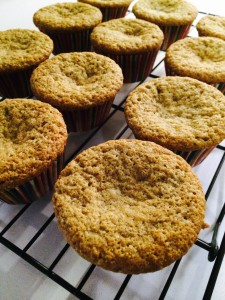 1/4 cup of butter (half a stick)
1 cup of sugar
2 eggs
1 1/3 cup of flour
1 teaspoon baking soda
1 teaspoon baking powder
pinch of salt (or two)
1/2 cup of milk
1 teaspoon ground ginger
1 teaspoon ground cinnamon
1 teaspoon ground nutmeg
1 teaspoon fresh ginger (grated)
2 teaspoon vanilla
Frosting Ingredients: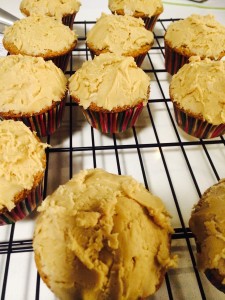 1/2 cup butter (1 stick)
1 cup packed brown sugar
1/4 cup milk
1 teaspoon vanilla
~2 cups powdered sugar
Preheat oven to 350 degrees and prepare a 12 cup cupcake pan with cupcake papers or whatever you like to use for your cupcakes.
Combine sugar and butter in a bowl and mix until it resembles course crumbs. Then add in the two eggs and beat to your hearts delight.
In a separate small bowl, combine flour, baking soda, baking powder, salt, and dry spices. Then add half of the flour mixture to butter mixture. Add in fresh ginger, vanilla, and milk. Combine loosely and then add in rest of the flour mixture. Stir until completely mixed together.
Divide batter into prepared cupcake pan and bake for 16 minutes (or until toothpick comes out clean). Let cool while you prepare the frosting.
For the frosting, melt butter in saucepan. Add in brown sugar and bring to a soft boil, stirring constantly to prevent burning. Then add in the milk and bring back to soft boil for ~2 minutes, still stirring constantly. The sauce should still be fairly runny. Let cool for 30 minutes.
Once butter/brown sugar has cooled, add in 1 cup of confectioner sugar and combine completely. Then add in some more until desired frosting consistency is achieved. I did a total of 2 cups, but wish I had only done 1 1/2 – 1 3/4 cups. My frosting, as you can see, was rather thick and crumbly. Still tasty but more of a fudge in the end.
Frost those cupcakes with as much frosting as you want! I had extra that's currently in my fridge still…. not sure what I'll be doing with it…
EATALLOFTHEMBEFOREANYONEELSECAN!