I have very strong memories of "Apple Stuff" from childhood. I thought it was delicious!!! (or that's my memory of it. Perhaps my mom remembers otherwise). If I recall correctly, then Apple Stuff was a recipe that my mom modified from something she found in the newspaper. Quite simply, Apple Stuff is the combination of granny smith apples, raw cashews, and a bit of lemon juice. Throw it all into a food processor to chop it all up, and PRESTO! Apple Stuff!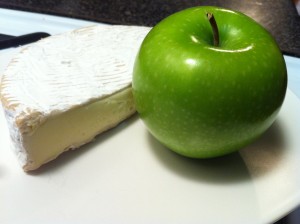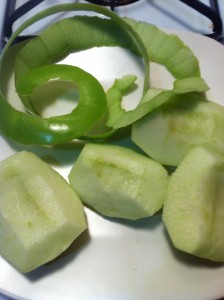 I made a batch a few weeks ago. Delicious as always and just as I remembered it. As I was munching on my apple stuff, I got to thinking of how this could be incorporated into a baking delight. I started out with thinking of making it into a cheese cake kind of thing, where instead of peanut butter, one uses cashew butter and then adds some caramelized apples on top. This still may happen, but will require a touch more planning and though on my part.
But last Wednesday, we had out weekly lab meeting and there was brie, crackers and grapes. yum! And then it hit me, brie and apples are great together… right? That's a thing? Maybe? From there, I decided granny smith apples and brie would be excellent together. But a brie cheesecake does not sound delicious to me. That actually sounds terrible and no unicorn in the world would endorse such a thing. So how could I combine brie and apples into a baked good? Course I next went to scone! But I just made a savory scone… Then it hit me, BISCUITS! They're totally different from scones because they aren't triangular shaped, right?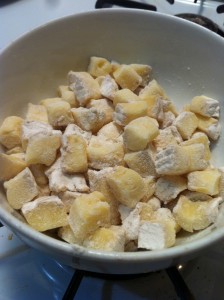 So that's what I have concocted. Brie and Apple Biscuits.
Unfortunately, the brie was super strong, and the apple was not so strong. So they were mostly Brie Biscuits. When I remake these, and I'm sure I will sometime soonish, I'll probably double my apple and half the brie amount. But what follows below is the recipe that I just used to make this first batch of biscuits!
Brie and Apple Biscuits
modified from J.P.'s Big Daddy Biscuits

Ingredients:
1 medium sized granny smith apple
1/2 lb brie (cold)
2 cups flour + extra for kneading
1 tablespoon baking powder
1 tablespoon sugar
1 teaspoon salt
6 tablespoons butter (cold)
1/2 cup milk
Directions:
1. Preheat oven to 425 degrees. Heavily grease cups of a 12 count cupcake pan. May want to also flour the insides.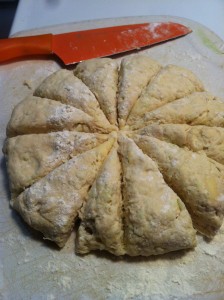 2. Place brie on a flour dusted cutting board and have extra flour near by to throw onto brie as you cut it. This helps to separate the brie into distinct cubes as you cut it. Cut the brie into small cubes (~1 cubic centimeter). Place brie cubes, fully separated from one another into a bowl and place back into fridge.
3. Place flour, sugar, baking powder, salt and butter (cut into ~6 pieces) into food processor and pulse for 20-30 seconds. This will cut up the butter, yielding a coarse cornmeal texture. Transfer to a large bowl and set aside.
4. Peel granny smith apple, cut into ~8 sections, removing core and seeds. Place this in the food processor and pulse for 20-30 seconds. The consistency of the apple should be like that of a cole slaw. Add apples to the butter/flour mixture. Add in the chilled brie cubes and mix everything together. Slowly add most of the milk. Combine until ball of dough forms. This should be somewhat sticky, but not impossible to handle. If it seems too dry, then add in a little more milk.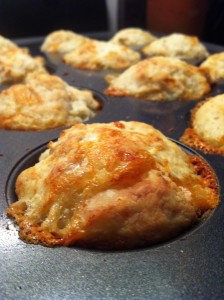 5. Turn dough out onto a heavily floured surface and knead for 1-2 minutes. The dough should still be sticky, but not clinging to your fingers and unmanageable. Form dough into a ball and then gently flatten the dough out into a circle that's 3/4 inch thick. Using a knife, cut the dough into 12 even sections. I did this by first cutting into 4 sections (perpendicular cuts), and then divided each of these 4 quadrants into 3 pieces. Take each wedge and form into a ball. Plop the ball into one of the well greased cupcake cups.
6. Bake for 13-15 minutes. Take out of oven and let cool. I'm not entirely sure how long one should let these cool for. I let them cool for ~5 minutes and then started to take them out of the pan. This was very difficult as the cheese was causing the biscuits to stick to the sides. I'm not sure if this would have been easier if the cheese had cooled. As an alternative, try using cupcake papers next time? Not sure if that would help.
7. Serve warm! Or as my friends Mik and Vani did, serve with pasta topped with eggplant and tomato sauce.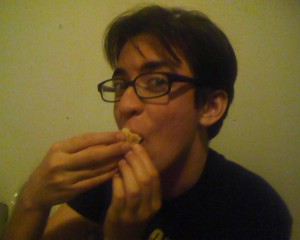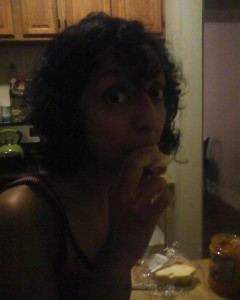 (nom nom… munch)