I just spent the past 9 days in upstate New York with my family for the holidays. It was a lovely time. My aunt and uncle came for 2 nights to celebrate xmas with us and my brothers and sisters, except the oldest brother, were all there with me and my parents. The Muppets were also there. We watched the Muppet Christmas Carol and Muppet Family Christmas, both classics to my family. One of my favorite songs from Muppet Christmas Carol is "Thankful Heart", sung by Scrooge (Michael Caine) at the end of the movie. If you don't know it, enjoy:

So much cooking and baking occurred as well. OOOFTAH!! I'm pretty sure I'm now a blimp. Perhaps I will eat only salads until classes start again…. granted, I put so much cheese on my salads and garnish them with a healthy side of croutons, I doubt this would reduce my blimp-ness any. Sigh. I'm terrible at diets and restricting food unless ordered by a doctor, and even then…. Guess I'll just have to hit the gym a few extra times.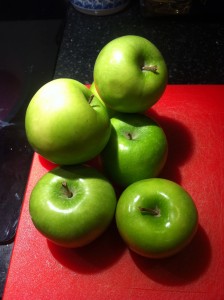 Despite my inability to restrict my eating, my mother has managed to do quite a good job a cutting out gluten from her diet. Course, this is because she's allergic to it, but I still find it impressive (clearly this trait was not passed along). I spent most of the time upstate happily figuring out ways to make various desserts gluten free. It's kinda a great challenge to make a dessert that is gluten free AND tastes at least similar to the gluten-ness version. To my mothers joy (or dismay), I managed to make a pretty darn good Toll House chocolate chip cookie to be free of the gluten and almost indistinguishable from the normal version. But that's not what is recorded below. Why? Probably because I once again failed to document any of the things that I made upstate, except for this one that I made last night on a whim.
The whim mostly stemmed from my friend, Mik, sending me this AMAZING apron: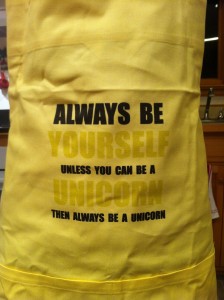 I felt it only natural for me to bake something at that moment, so I did! Having had a lot of chocolate floating around in other recipes, I decided to switch it up a bit and make a fruit based dessert that would also go well with the multiple 1/2 gallon tubs of ice cream that were in the freezer. So here it is, my version of apple crisp, modified to make it gluten free.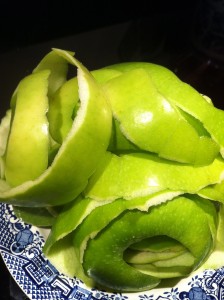 Apple Crisp Sans Gluten:
Loosely based on This
Ingredients:
6-7 Granny Smith Apples
Zest of 1 lemon
1 1/2 teaspoons cinnamon
1/4 teaspoon cloves
1/4 teaspoon nutmeg
5 tablespoons butter
1 cup brown sugar
1 1/2 cups Gluten Free Oats (I used Bob's Redbarn)
1. Preheat oven to 375 degrees.
2. Peel, core and cut apples into thin slices. Add 1 teaspoon cinnamon, the nutmeg, the cloves, the lemon zest, and 1/4 cup of sugar to the apples. Toss together until completely mixed up (all slices of apple are covered with spices and sugar).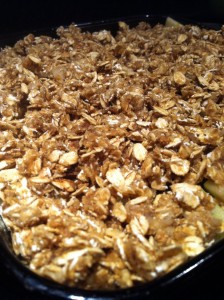 3. Cream butter and rest of sugar in a small mixing bowl. Add in the oats and cinnamon and combine. The mixture should be fairly crumbly. Place the apples in an 8×8 pan (I used a glass Pyrex dish). Shake the pan/dish a bit to get the apples to "settle in" a bit. Cover the top of the apples with the oat and butter crumble.
4. Pop the pan/dish into the oven for ~30 minutes. I decided it was done when the oats were beginning to brown and an apple, when pierced with a toothpick, was soft but not mushy. Let cool for a ~10 minutes and the serve with your favorite ice cream (or whatever you have left over from the holidays!)