I have been waiting for last night to occur, probably since I was born. Perhaps even before that. I would not but surprised if I have been waiting since the big bang, just waiting for all the right lil molecules to come together.
Regardless, Cher's performance was outstanding. That woman can still belt it out with the best of them, and she can do it in her Turn Back Time Outfit! Also, she was hilarious! Ugh…. I cannot wait until her 4th farewell tour. I don't know how she can top this one, but I have no doubts that she'll find a way. And if Cher wasn't enough, Cyndi Lauper opened for her!!! And Cyndi brought Liza Minnelli and Rosie O'Donnell onstage with her. And the three of them sang "Girls Just Wanna Have Fun". Mind blowing.
Sigh.
THANK YOU, MAMA!!! Last night was all I have ever dreamed of and more!!!
Also, HAPPY BIRTHDAY, MAMA!!!!!
and because I won't be posting tomorrow, HAPPY MOTHER'S DAY, MAMA! And to all other mom's, including Cher!!!!
This song was not performed last night, but I am a huge fan, even if Lady Gaga decided it wasn't worth releasing. It seems like an appropriate Mother's Day/Birthday song, and clearly appropriate for Cher:

Now for the baking.
I know I haven't actually posted in a while, but I have been baking. This particular treat was made 2 weeks ago, but I'm only now getting to it (I blame finals!!!!). Interestingly, when my friend tasted this, she was convinced that there was coconut in it (she loves coconut) and was shocked when she learned that it's actually hazelnuts that give it the taste and texture that it has (she doesn't like hazelnuts).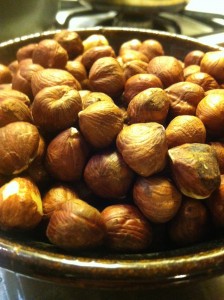 What that says about my baking and the treat as a whole is unclear, but… I'm amused.
The hazelnuts give it an interesting texture which I was a bit put off by. I was a little lazy (and pressed for time) when I made this, so did not grind the nuts quite as much as I would have liked. But everyone seemed to like the texture. GREAT!
The recipe called for Calvados-Poached Figs as well, but it was April when I made this. How many fresh figs do you think there are?
On a final note, I TRIED to blanch the hazelnuts (removing the skin and all) and got about 1/3 of the way through the nuts and gave up. It's not fun, nor easy, to remove skins, despite having blanched them. Almonds are much easier in my opinion.
Chocolate Hazelnut Torte
From BonAppetit, December 2013 Issue
Ingredients:
1 cup (2 sticks) butter, room temp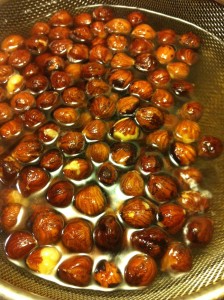 1 cup sugar
8 oz bittersweet chocolate
12 oz blanched hazelnuts (worst!)
1/4 cup flour
2 Tbsp. unsweetened cocoa powder
1 tsp. salt
6 large eggs, separated
1 tsp. vanilla extract
1/4 tst cream of tartar
1. If you are going to blanch your hazelnuts, do that first. Here's how one does that: Blanching!
2. Preheat oven to 375 degrees and grease (butter) a 9″ springform pan. Line with parchment and set aside.
3. In a double boiler, melt chocolate until smooth. Set aside to cool a bit.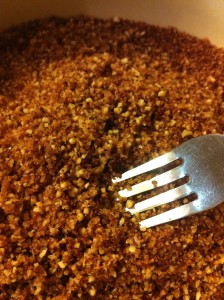 4. While chocolate is cooling, place (blanched) hazelnuts in food processor with flour, cocoa powder, salt and 1/4 of the sugar. Pulse until well ground (but not till it becomes hazelnut butter!!!). The original recipe says the mixture should be able to pass through a medium-mesh sieve, but in my world, there's only one sieve size, and that's the one that I have. Needless to say, I did not pulse to quite that mesh size. Mine was a bit bigger and I said" F*** it! I'm lazy!" and went with what I had.
5. In a medium bowl, beat butter and remaining sugar until fluffy. Then add in the egg yolks one at a time, beating batter after each yolk gets added. Next, stir in the cooled (but still melted) chocolate and vanilla extract. Finally, add in the dry ingredients bit by bit until all is incorporated into the batter.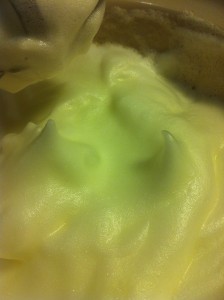 6. In a small mixing bowl, beat egg whites until stiff white peaks form! Then, take ~1/3 of the whites and mix into the batter to "loosen" it up (whatever that means). Then, once sufficiently loose, fold in the remaining egg whites, GENTLY, using a spatula. Once all is incorporated, transfer batter to prepared springform pan and bake for 20 minutes. After 20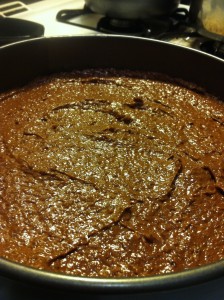 minutes, reduce the temperature to 350 degrees and bake for anther 30-40 minutes (I think I took the full 40 minutes). Test with toothpick! There may be some crumbs that come with toothpick when pricked, but it should not be gooey inside.
7. Remove from oven and allow to cool on wire rack for ~30 minutes before releasing springform pan.  Then allow to cool completely!!!
8. Serve to unsuspecting people who think hazelnuts taste like coconut. You'll blow their minds!