Oh! goodness! This year has been so long already, and we're only just starting the third month!
But I attribute that to this whole grad-school process. It's so draining. Interviews are exhausting… and unpleasant really. BUT I'm all sorts of done now! YAY! And plan to make a final decision by Friday. Also, on one of my interviews, I got to play this game. The best game ever!!!! (if you can't tell, that's a Dolly Parton Pinball machine!)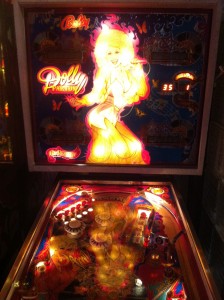 So, the following baked good was actually from a couple of weeks ago (don't worry, it's been eaten. Just haven't posted it till now). My dear friend, Anuya, had a little "I'm bout to get hitched in India" party with her lab and my lab (my lab is Anuya's former lab). It was great! I finally got to say more than a few words to her husband-to-be (March 8th is their official wedding date), and this was actually one of the few times in the two years I've been at the Lab that I've hung out with lab members outside of the lab. Always want to. Rarely can. So this was a rare opportunity for me. So. Much. Fun!
The whole thing was a bit silly. We played a "wedding" game where we took paper towels and tried to make a sari out of them. It was lab against lab, but of course, my lab won! AND we won by making a sari for the soon-to-be-husband. With a turban. Sigh, why didn't I go into fashion design?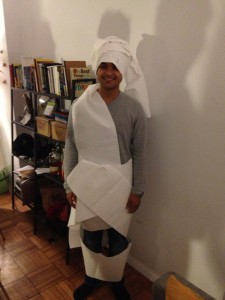 Anyway, this cake was created for Miss Anuya. She says she likes my baking, so I asked what I should bring to this wedding bash, and chocolate was the request. I had limited time, so I came up with this. A chocolate Bundt cake. Simple, but yummy. There are a few kinks I think I need to iron out, but overall, the texture was super moist and dense, and the flavor was a lot of chocolate, so… mission accomplished!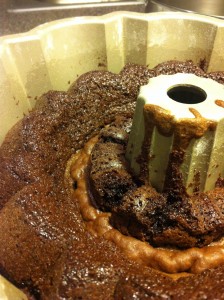 When I baked it, a dent formed in the middle of the cake. It was just a ring of cake that was indented compared to the inner ring and the outer edges… not sure why…. OOPS! but again, still chocolatey, so… whatevs!
Chocolate Bundt Cake (Suitable for a wedding bash!)
Inspired by this
Ingredients:The cake:
1 cup (2 sticks) butter
1/3 cup cocoa powder
4 oz Dark Chocolate
1 teaspoon salt
1/2 cup water
2 cups flour (may want to add an extra 1/4 cup)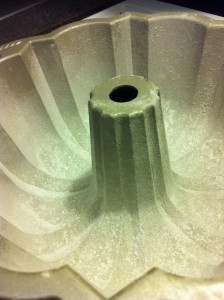 2 cups sugar
1 1/2 teaspoons baking soda
2 eggs
1/2 cup plain (or vanilla) Greek yogurt
1 teaspoon vanilla extract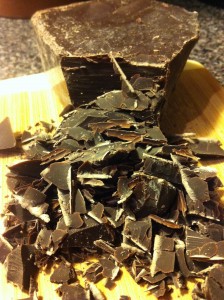 The Icing:
4 oz Dark Chocolate (chopped into small bits)
1 1/2 teaspoons agave nectar
1/2 cup heavy cream
1 1/2 teaspoons sugar
1. Preheat oven to 350 degrees. Prepare 12 cup Bundt pan by buttering it and then dusting it with flour. I took probably 10-15 minutes to do this. SO MANY NOOKS IN A BUNDT PAN! yikes.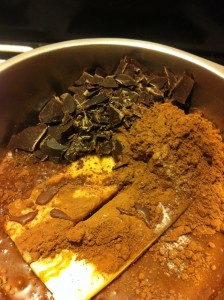 2. In a double boiler, place butter, cocoa powder, dark chocolate, salt, and water and heat it all up until chocolate is melted and everything is combined into a thin sauce.  Remove from heat and set aside.
3. Place flour, sugar, and baking soda in a large bowl and mix. Then add ~1/2 the melted chocolate and whisk together. Unless you have one of the whisks with the balls at the ends instead of loops, it's likely the mixture will get stuck inside. Fret not! Add the rest of the chocolate mixture and continue to whisk! Then add in the eggs, one at a time and whisk some more(not sure why it's always one at a time with recipes… but I do it…).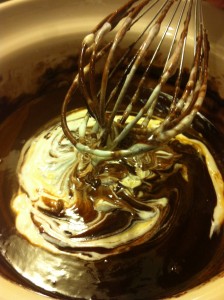 Finally, add in the yogurt and vanilla and whisk it all together. Now the batter should be smooth, and nothing should be stuck in your whisk. If it is, you may have a problem…
4. Pour batter into your prepared Bundt pan and bake for 50-55 minutes. Check if the cake is done with a toothpick and keep baking if it's not clean (I may have gone up to 60 minutes. Again, that weird dent in my cake happened!).
5. Once the cake is baked sufficiently, allow to sit for ~20 minutes, then turn cake out onto a wire rack and let the cake cool completely. This, for me, took about 2 hours.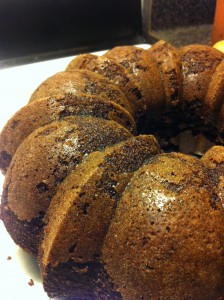 6. To make the icing, place heavy cream, sugar, and agave nectar into a double boiler. Allow the cream to get pretty warm and for the sugar to completely dissolve. Turn off heat and add the chocolate bits into the cream. Stir until chocolate is completely melted and the icing is smooth. I then allowed the icing to cool for about 20-25 minutes, stirring every 5 minutes. I wanted the icing to stick to the cake rather than just dribble down the sides and pool at the bottom. Your call!!
7. Pour icing over the cake whenever you wish (I threw on some shiny balls after icing). Then serve! Or just take it to your room and eat it all by yourself. No judgements!