Sigh.
Spring break 2014 is done. It always amazes how quickly this one week in the year goes while all other weeks of the year seem to drag one. Amazing! Somehow time just moves differently for this one week. Tricky Tricky.
But even though the week sped by, it was a great one. Lots of amazing friends, food, wine, whiskey, and yoga! I also checked back in with the music scene for a moment, and found "Headlights" by Eminem featuring Nate Ruess. I've always been a fan of Eminem, and I'm a HUGE sucker for any song with a featured artist. Gets me every time!

The song is rather intense and sad, but it's been on repeat all day. It reminds me how lucky I am to have my amazing mom and family. Thank you, family, for being amazing! I'll never be able to identify with this song because of you guys 🙂
Also this Spring break has found me obsessed with "Gaycation" by DWV

Detox, Willam, and Vicky are (almost too) fabulous. They're clever, sassy, and unapologetic drag queens. What's not to love?!
And with that, I'll conclude my music run down and move onto the baking.
This recipe was originally inspired by a smoothie I had at Juice Generation called the Joyful Almond. I was honestly skeptical that it would be good, but I tried it (mostly because I was tired of the other option) and fell in love with it. So I set out to make a cookie version of the smoothie. And it's vegan, so it must be healthy, right? yeah….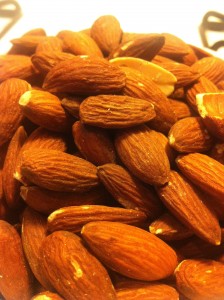 Anyway, these turned out to be pretty good. They also turned out to be a vegan version of the Samoa Cookie that girl scouts like to get you with (I have a box in my freezer from last year still…. I should probably use that up). There's sadly no caramel in my cookies (I have no clue how to do a vegan caramel… butter is key to delicious caramel), but the coconut and chocolate are there!
Vegan Almond-Coconut Cookies (a girl scout knockoff)
yield: ~4 dozen

Ingredients:
16 oz (1lb) roasted, unsalted Almonds
2 tablespoons Olive Oil
1 tablespoon baking soda
3/4 cup flour
2 cups sugar
1/2 cup packed brown sugar
1/2 cup applesauce
2 teaspoons vanilla extract
~1 cup shredded, unsweetened Coconut
3.5 oz dark chocolate (I used Green and Black's Organic Dark Chocolate, 70%)
1 tablespoon agave nectar
1. Preheat oven to 35o degrees and line a baking sheet with parchment or Silpat.
2. Place almonds in food processor and add olive oil on top. Blend on high (if you have different speed settings) for ~30 seconds. Scrape down the sides. Repeat blending and scraping 2-3 more times, until almonds and oil have become almond butter. (you can also skip this step by buying a jar of almond butter….)
3. Place almond butter, baking soda, flour, sugars, apple sauce, vanilla and 1/4 cup shredded coconut into a large mixing bowl and mix it all up together into a dough. The dough should be slightly crumbly but can be formed into a ball.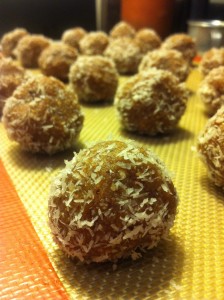 4. Make ping-pong sized balls of the dough and roll them in the extra coconut. Place on prepared baking pan ~ 1 1/2 inches apart. They spread out a bit (especially if you drop them on the counter to make them chewy rather than crispy). Bake cookies for 10-12 minutes, or until they start to crack at the top. Remove from oven, allow to cool for 5 minutes, and then transfer to cooling rack.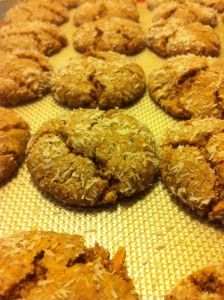 5. While cookies are cooling, place chocolate and agave nectar in double boiler and melt completely, stirring constantly. Allow to cool for 5 minutes while you get the cookies ready. Place the cooling racks on a piece of foil or another pan. Make sure the cookies are touching one another but not overlapping. This will reduce chocolate waste.
6. Once cookies are ready, drizzle the chocolate over the cookies using a spatula or a spoon. Allow chocolate to cool completely. Because of the added agave nectar, the chocolate will not become hard when cooled. Instead, it will be more fudge like.
7. eat! or sell them as girl scout cookies and make a killing.