PHEW! Turkey day is over! Pie have been made. Pies have been eaten. Green Beans have been made (though according to my family, they were "spicy". LIES! I like to think of them as a pallet cleanser). Green beans have been eaten. Many a bottle of wine, prosecco, and beer have been opened (but not made). Many a bottle of wine, prosecco and beer have been drank (not eaten).
And of course, I documented NONE of it. Of the many things that were baked and cooked and boiled and fried over the Turkey day holiday, I took not a single picture. I did note some recipes, one of which is below!
But let us be perfectly honest, the real reason one celebrates Turkey day is not for the giving of thanks and for having friends and family around you. No no. Admit it. The actual reason that we celebrate Turkey day is because it marks the time of the year when Holiday music becomes acceptable to listen to, on repeat, at full volume. No one can judge you for this because it's officially the "Holiday Season." And so of course I did my part in ushering in this season by tapping on the "Christmas!" playlist on my phone and blasting Mariah, J. Simpson, Britney, n*Sync, and several songs from the Broadway Carols album. This music has been playing pretty much nonstop since turkey day. As I type this, I have "winter wonderland" playing in my ears.
I did venture onto iTunes to look for some new music. I recalled that I enjoyed a holiday tune by one of "The Voice" finalists last year, so I went searching for him. Chris Mann is his name, and he has a holiday album. I have yet to buy it, but have listened to most of the songs and find them quite enjoyable. BUT I also found he has a new non-holiday album. I stumbled upon "Unless You Mean it (Remix)" and when it's not Brit Brit singing about her only wish this year, it's Chris Mann telling me what I can and cannot say. It's one of those songs that I will blast in the car and sing at the top of my lungs (and don't judge me for that. All y'all know you do the exact same thing with your favorite songs.)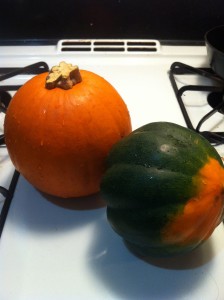 OH! and speaking of Brit Brit, she has a new album out. WHAT?!?!?!?!?! I kinda love it. And by kinda, I mean I DO! But by now, you should know that she can do no wrong in my world. NONE!
And Leona Lewis has a pretty fantastic Christmas album out called "Christmas, With Love" I'm hoping that whatever her next album is, it has the stylings of "one more sleep." LOVE HER!
But enough of my music loving. Let's move onto the foods!
Now, I admit that this is not a "baked good" exactly. But it was baked in the oven! And it was baked with an ingredient that will be needed for another baking expedition that, if all goes right, will be baked tomorrow. Or Tuesday? Eventually! Anyway, I made these on Thanksgiving Eve, and really enjoyed them. There is a recipe for them, somewhere in my mom's house. So, sadly I cannot properly credit whoever this recipe comes from, but if you recognize this as your recipe, then lemme know! And thank you for it! T'was delicious!!!!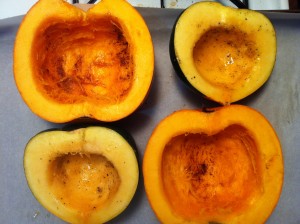 Quinoa Stuffed Acorn Squash!
adapted from a recipe by someone awesome!
Ingredients:
2-3 Acorn Squash
1/2 cut quinoa (I used red quinoa this time)
1 small red onion
1 granny smith apple
1 navel orange (original recipe used cranberries)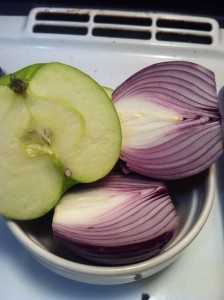 1/2 cup shredded Cheddar cheese (or more. live your life.)
Olive oil
Salt + Pepper
1. Preheat oven to 400 degrees. Line a baking sheet (I think I technically used a jelly roll pan?) with parchment paper.
2. Wash squash and cut in half. Remove seeds and the extra stringy bits (if you're feeling thrifty, then you can clean the seeds of the stringy stuff and bake them with some olive oil and seasonings. YUM!). Drizzle a touch of olive oil on cut face of squash and sprinkle with salt and pepper. Then spread/rub in the oil/salt/pepper onto entire cut face of squash. Place cut side down onto parchment and place in oven. Let bake for 40-50 minutes. (You'll notice in my pictures, there's a pumpkin. That's cuz I'll be using the pumpkin in a later recipe!)
3. While the squash is baking, rinse quinoa and then place in saucepan with 1 cup of water, a drop or 3 of olive oil,  and salt and pepper. Bring water to a boil and then reduce heat to a simmer and cover. Allow to cook for ~15 minutes. Remove from heat!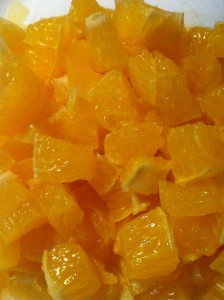 4. While the quinoa is doing its simmering thing, chop up the onion and toss into a pan with some olive oil, sauteing until slightly browned. While sauteing, chop up the apple into lil bits. Once the onions are brown-ish, toss in the apple bits and saute for another 7-9 minutes, until apples are soft. The quinoa should be done by now! Place quinoa in a bowl with the apples and onions and mix them together!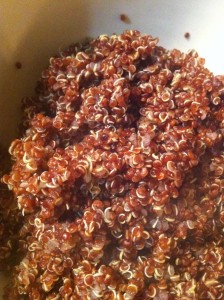 5. Peel orange! I tried my best to remove the pith from the orange, so I took a knife to it and scraped the outside, like I was shaving it. Worked pretty well. Then chop up orange into lil bits and add to the quinoa. Throw in some salt and pepper if you wish, and perhaps some red pepper flakes (I did this cuz I like things to burn and make me cry when I eat them. I understand that some people don't like this sensation. weirdos).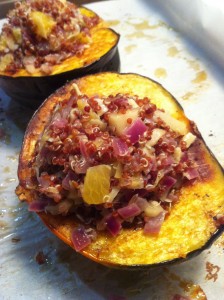 6. Check your squash! They should be easily pierced with a fork. If they are at that stage, then they're ready for stuffing. Turn squash over and keep on parchment. To the quinoa, add in the cheddar cheese and mix that all up. Then fill the squash with the quinoa mixture. Place squash back in the oven and bake for another 15 or so minutes (or, in my case, whenever you remember that you have put something in the oven and that maybe you should take it out…).
7. EAT!
p.s.  HI CECILY!!!! I didn't realize you read this 😀