Well, it seems that when I don't have a job or work to do (other than cleaning and organizing) I have time to post things. 3 posts in a week? Unprecedented. But, cuz I know that life will pick up in the next week, I figure, may as well milk this posting time for all I can.
First, I would like to share this video. I saw it a couple months ago, but as my posting has been nil in the past few months, I haven't had the chance to share it till now. Yanis, Arnaud, and Mehdi are phenomenal, and I love watching them dance! They are the reason I did a performance with the GGRD Jeerleaders in heels. The three kill it in this performance. Whenever I need a pick me up, I just watch this: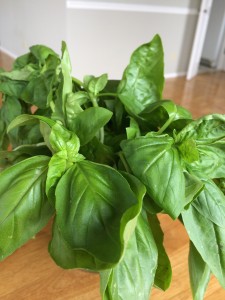 Now, because of all this free time, today I had the opportunity to bike to the farmers' market in Tower Grove Park. I was too late to go to the free yoga class (went there last week with my friends Beth and Jack), but was just in time to hit the post yoga rush. After what seemed like an oddly long coffee line wait for a line of 5 people, with coffee in hand, I enjoyed a stroll around the whole market, scanning all the stands for the best produce. Most stands had heirloom tomatoes, so of course I had to get some. But what to do with just a tomato? Naturally, basil and bread were the next buys. Along with those, I found some small, sweet plums. Mine! My plan was to just eat the plums and make bruschetta with the other ingredients.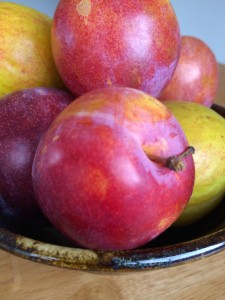 But once I got home, that plan dissolved. I found I had 6 plums plus 2 more that I had from the other day at Whole Foods. So many plums! Clearly baking was the only option. Because I had the basil, and I know that I NEVER finish all the basil in whatever dish I bought it for, I decided plum and basil should come together in a cake. And so that's what happened here! This recipe is a modification of a cake I had in San Francisco several years ago. The baker actually has her own blog, The Moon in My Kitchen.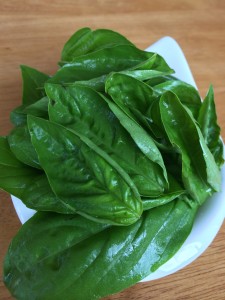 She's wonderful! This particular recipe is based on this post. The couple pictured in the post are my friends in San Francisco, and I was actually at the dinner where those pics were taken. Since that dinner, I've made this recipe in various forms. It's delicious! And easy to play with.
W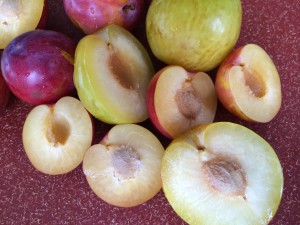 ith this particular iteration, I had leftover ingredients. I cut a few too many plums and made too much of the candied walnuts. So those became a salad with arugula, heirloom tomato, and fresh parmigiano-reggiano cheese. Nummy! (the ingredient amounts below are what I should have used. oops!)

Plum-Basil Cake
inspired by the link above!
ingredients: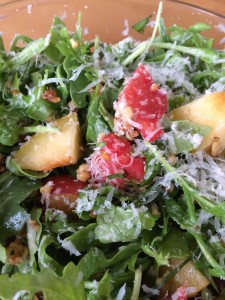 1 1/2 cups flour
1/2 teaspoon baking powder
1/4 teaspoon baking soda
8 1/2 tablespoons butter
2/3 cup +1 tablespoon sugar
zest from 1 orange
2 eggs
6 oz yogurt (I used vanilla Greek yogurt)
1 teaspoon vanilla extract
1 oz chopped walnuts
~4 plums
~3 sprigs (?) Basil
1. Preheat oven to 350 degrees, and line a 9″ round pan with parchment paper.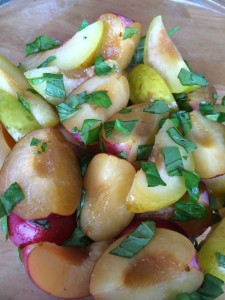 2. Toss chopped walnuts, 1/2 tablespoon butter and 1 tablespoon sugar into a frying pan and place on medium heat. Allow butter to fully melt. Stir constantly until sugar and butter begin to caramelize and walnuts begin to toast. Remove from heat and set aside.
3. If you have small plums, then I would quarter them. If you have medium/large plums, I would cut them into eighths. Just depends on how thick you want your plum slices. Ultimately you will want 16+ slices. I cut up 6 plums. Quartered 4 and the other 2 into eighths. Hence why I had too many plum slices and the need to make a salad. As for the basil, remove leaves from stem and discard stem (unless you want it for something). Coarsely chop basil and toss plums and basil together in a medium bowl.
4. Sift flour, baking soda, and baking powder together in a small bowl. Set aside. Cream butter (remaining 8 tablespoons) and sugar (remaining 2/3 cup) together in a medium bowl. Add in 1 egg at a time, beating thoroughly after each egg. Toss in the orange zest, vanilla extract, and yogurt. Whip that all together. Add in the flour mixture and mix until just combined. Try not to beat it too much as it can make the batter a bit dense.
5. Spoon 1/2 of the batter into the prepared pan and spread it out. Then place plums with basil in whatever arrangement you want on top. Cover with remaining batter and spread this addition out. Place remaining plums and basil on top. Finally, sprinkle candied walnuts over everything. Bake for 55-60 minutes or until tester comes out clean from the center. I added extra plums to the center of my cake. This slowed the baking in the center, so it took a bit longer than 60 minutes in my oven. Play it by ear… or some such phrase.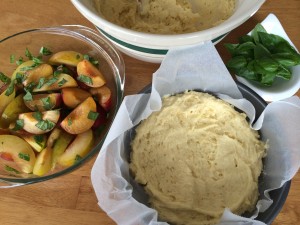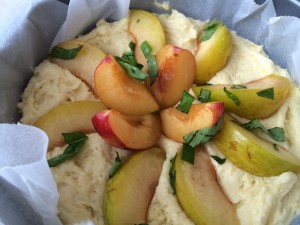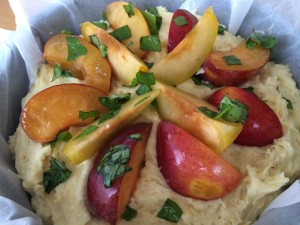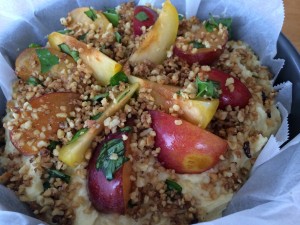 6. Remove cake from oven and allow to cool for ~30 minutes on wire rack. Then, if you can, lift cake out using the parchment paper edges. Or turn it out. Whatever works for you. Then eat it all. All. 😀