The other night I woke from an amazing, heart warming dream. I was hanging out with Cher in her apartment with a friend from high school, and we were having a grand old time. Cher even started singing for us, though I have no idea what the song was. Best part was that Cher's apartment was actually attached to a mall…? It was a rough rest of the day as I trudged through the reality that Cher and I are not best friends. WHY!?!?! If you haven't seen Cher's new video, check it out. Her hair is amazing! Woman's World
This week I have also been reading alot of research papers on motor skill learning. On the one hand, people are doing some really great stuff out there that I want to get involved in. On the other hand, they seem to be doing it at top universities that I'm not sure how I'm going to get into.  Can I bake them cakes as part of my application? Perhaps a boozy confection that will put them into a perfect mind set to admit me? Please?
Sigh.
Anyway, onto this vegan cake that I conjured up. I say it was a catastrophe, but perhaps I'm being a bit harsh. It was simply a baking adventure (good thing this blog isn't called "Baking with Unicorns: a how to on all things baking"). Everything started out quite nicely. I sifted ingredients together (I thought it looked rather like a sand dune), which I normally never do because I'm lazy. and the batter was looking quite nice, but once the batter was in the pan, things stopped going so well. The recipe calls for 3 TABLESPOONS of baking powder, which in my head meant major bubbling and rising, but that didn't fully translate until it was almost too late.
 I had to wait for my oven to heat up, so after the batter was in the pan, I started to clean up. When I looked over a second later, the batter had risen up to nearly spilling out of the pan! I had to quickly prep a second pan, and awkwardly scoop half of the batter into the second pan. I was a bit scared that this would kill all the light fluffly bubbling of the batter, but in the end, I think it was okay. There was enough baking powder to keep the reaction going. YIKES!
The cake came out fine, though I think it was a bit lacking in flavor and it was SUPER crumbly, most likely because there was no egg or something to bind everything together. The 'fudge' frosting was almost a success. I think it certainly has more flavor than the cake, but the recipe made a deceivingly small amount of fudge. I was supposed to have enough to make 1 layer to stick the 2 layers together with and to put into a piping bag and pipe on a pretty top to the cake. I could barely spread a thin layer of the stuff in the middle and the top.
Now, i admit my measuring skills for the fudge were lacking, but I OVER did it with the ingredient amounts and still came out with less than expected. GRUMPH!
But all my grumbling aside, I think that overall, the cake wasn't the worst. Again, I thought it lacked in flavor, but when I took it to my lab and people tried it, they thought it was great, especially for a vegan cake(there are a couple of resident vegans in my lab, so I'll take their praise as being well informed). I personally think it's good when the fudge and cake are eaten at the same time, but neither one can stand alone. But that's just my personal opinion (as is this entire blog….). Here's the recipe:
Vegan Chocolate Cake
modified from The Ultimate Encyclopedia of Chocolate
The Cake:
2 1/2 cups flour
1/2 cup cocoa powder
3 tablespoons baking powder
1 1/4 cups sugar
1 teaspoon vanilla
9 tablespoons sunflower oil
The Fudge:
1/4 cup vegan margarine (I used earth balance)
3 tablespoons water
2- 2 1/2 cups confectioners' sugar
~4 tablespoons cocoa powder
Preheat oven to 325 degrees.
Prep two 9″ round pans (I just used non stick pans and lined with parchment on the bottom).
Sift the flour, cocoa, baking powder, and sugar together in a large bowl. Add vanilla and sunflower oil and mix completely. The batter should start to be bubbly/airy. This is because of the crazy amount of baking powder. Divide batter between the two pans and bake for ~25-30 minutes or until a toothpick comes out clean. (This time is a total estimation. The original recipe was for 48 minutes, but the cake was NOT divided into 2 pans like I did it here).
Allow to cool in the pan for about 10 minutes, then turn out onto wire racks and allow to cool completely.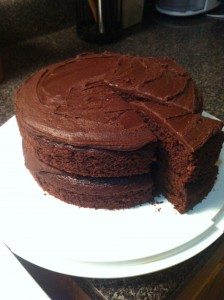 To prep the fudge, melt margarine with the water in a saucepan. Remove from heat and add in the confectioners' sugar and cocoa powder(I sifted the sugar and cocoa powder to avoid lumps). Add more water if the fudge seems like it's too thick. Spread half the fudge onto top one of the cake layers. Place second layer on top and spread rest of the fudge on top. DONE! There won't be enough fudge for the sides, but I think that's okay. The fudge is rather intense and may have been too intense if there were more of it on the cake.
ENJOY!