Before I forget, I would like to thank my dad for pointing out that "baking with Unicorns" can be re-scrambled to "Scrub A Thinking Wino." Not only do I find that to be a hilarious image, but also rather appropriate considering how much I love my wines. In fact, this blog was almost named "confections of an alcoholic" but then realized I'm not actually an alcoholic, so didn't want anyone getting any ideas.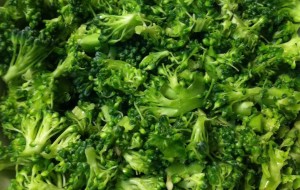 Anywho, this past summer I went on a small scone baking binge. I was originally inspired by a post from The Moon In My Kitchen where she posted a delicious recipe for blueberry scones. I made those, varying it a bit and adding an icing. And then I made some peanut butter chocolate chip ones, then some orange chocolate chip ones and then some…. I made tons of scones. I found them quick and satisfying to make. But the whole time I was on this baking binge, I really wanted to make a savory scone, but never remembered to buy the ingredients (generally I was making these scones at night after about 4-5 hours of GRE studying, so my brain was a bit fried). The other day, I remembered my binge, and quickly flipped through various recipes for scones, gathering a general "scone formula" of flour, baking powder, salt, sugar, butter, milk and flavor. From there, I pieced together my savory scone recipe. A Cheesy, Jalapeno, Broccoli Scone.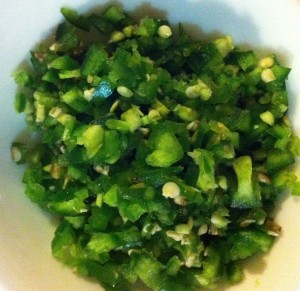 I have to admit that these babies were a hit. At least, they seemed to be with my roommates and those who work in the psychology lab I'm an RA at. HOOOOOOORAY! I personally loved them. Hint of jalapeno so that you get a small kick in the mouth, but the cheese helps to calm the burn. And the broccoli adds great texture and delicious flavor. I was rather sad that I only made 8 scones, but I suppose I could always make more….
Before I get to the actual recipe, I should note that when I was making these, I was all sorts of in the mood to be precise and measure things out perfectly. I have a small kitchen scale that goes from ounces to grams and seems to work pretty well…. And it did… for half of the measuring and then the batteries died. So you will notice that the recipe is in several systems of measurement. I apologize for that, but…. it's all I got for you now. If you need to convert to a single system, google it.
Cheesy, Jalapeno, Broccoli Scones
(original recipe)
375 grams (3 cups) Flour
1 1/2 Tablespoons Sugar
1/2 Teaspoon salt
3/4 teaspoon Baking Powder
1 stick of Butter (extra cold)
~0.6 lbs Extra Sharp Cheddar Cheese
~.25 lbs Asiago Cheese
35 grams diced Jalapenos (~two 2″ peppers)
75 grams Broccoli Florets
1 cup Half and Half (plus extra for brushing)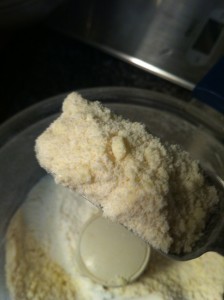 Preheat oven to 400 degrees.
Dice the jalapenos and broccoli and set aside.
Sift flour, baking powder, sugar and salt in a large bowl (I've really been enjoying sifting my dry ingredients together lately, even though it creates more dishes). Take about half the flour mixture and place in a food processor. Cut the cold stick of butter into 4-6 pieces and place into food processor as well. Pulse the processor until the mixture resembles a rather course mixture (see picture).
Combine the butter/flour mixture with rest of flour mixture. Grate the cheese (watch your fingers) and combine with flour mixture. The flour should coat the cheese bits and help to separate them so they're not all clumped together. Toss the jalapenos and broccoli in with the flour mixture, distributing broccoli and jalapenos throughout the mixture as evenly as possible.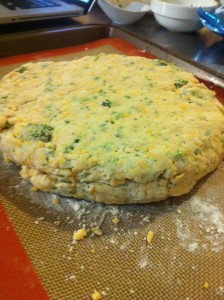 Add 1 cup of half and half to flour mixture and combine, using wooden spoon. The dough should be somewhat sticky, but not too sticky. If it's completely sticking to the sides, add a bit more flour. If it's completely dry, add just a touch more half and half. Turn dough onto prepared floured surface. I like to put a no-stick silpat sheet on an 18×12 jellyroll pan. Kneed your dough for 2-3 minutes, adding a bit of flour if needed such that dough sticks together, but is not sticking to everything. Then shape into a sphere and flatten out till about 1″thick.
Slice the round of dough into 8 pieces (like a pie) or however you wish to form your scones. Evenly spread the scones out on pan (they don't spread out much except for the cheese part melting). Brush the tops of the scones with a bit of half and half and then place in oven.
Bake for 26 minutes or until toothpick comes out slightly or completely clean. I went with slightly, giving me a much more moist scone, more biscuit like. Allow the scones to cool on pan for about 5 minutes and then transfer to wire rack to cool completely. I served them as is, but if you feel you need a touch more butter, salt, and/or pepper, go for it!