Alright, let's get this post started.
First, it's been a whirlwind of a semester at school. So much work! But also so much learning! From hierarchical linear modeling to fun new yoga poses, it's been a lovely couple of months. So lovely that I haven't been baking much (except for celebratory brownies now and then). With summer here, maybe that will change. *fingers crossed!*
While my baking may not have been advancing forward, my YouTube lists have been ever growing. It's a constant search for music that I can play in yoga classes or boot camps. Current top picks:
Breath and Sound by Tom Goss
Hurts (Remix) By Mika
Also, to quickly respond to an email from my dad, I think I'm managing to clock enough time "Outside Upside Down":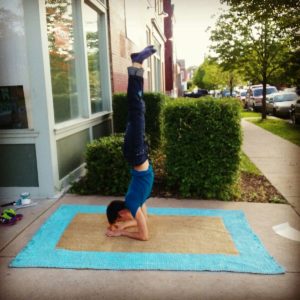 I was helping my friend set up for her new yoga studio (CONGRATULATIONS JAMIE!!). The rug you see was a goodwill find, and, while clean, needed some stain cover up. What better way than with blue paint? After tackling that job, clearly we needed a brief photo session.
Okay, now for the baking. This pie comes from the need to bake up some kind of delight that is easy and can be made with simple ingredients. We were having a going away party for some people in my lab, so our lab meeting was turned into a potluck lunch. I clearly signed up to bake a dessert, but come Sunday morning, I realized I had no idea what I was going to bake and had little time to figure it out, so with some googling around the interwebs, I found this super simple recipe that sounded pretty good. I sent the recipe to my friend Liz. She's a self professed lover of pie, and so I trusted her opinion. She said she wanted to eat it all now, so I took that as a good sign. Now, without further adieu, here's the recipe: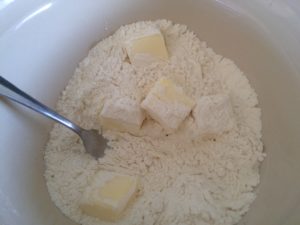 Sugar Milk Pie
Idea comes from this!
Pie Crust:
1/2 cup chilled butter
1 1/2 cup flour
Small handful of sugar
2 Tbsp chilled Grand Marnier
4-5 Tbsp ice water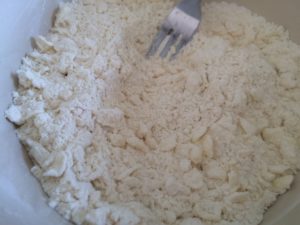 Filling:
2 cup heavy whipping cream
2/3 cup sugar
1/3 cup flour
1 tsp cinnamon
1/4 tsp nutmeg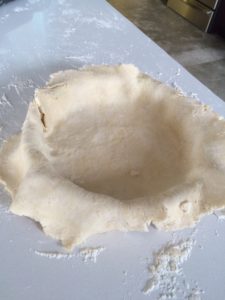 The Crust:
Chop butter into small cubes. Then add in flour and sugar. Taking your handy dandy fork in hand, begin to press the butter through the tines of the fork, effectively using it as a pastry cutter (I've actually never managed to get a pastry cutter to work properly). Keep forking away at the butter/flour combo until you achieve a course grain (about 5 minutes).
Add in the Grand Marnier and 3-4 tbsp of ice water. Mix around with the fork. Maybe add some more water. I find that about half of the "dough" comes together because of the liquids. Then I use my hands to mush the rest of the crumbs into the dough ball. If you add too much liquid, the crust wont be flaky and tends to be rude to work with.
Once you have a ball of dough, wrap it in plastic and chill in fridge for an hour… or in my case, as long as it takes to go get some heavy whipping cream, have and awkward conversation with your doorman about strip clubs, and eat some cheese and crackers.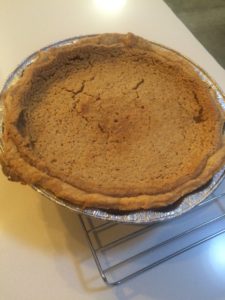 The Filling:
Preheat oven to 350 degrees
Super simple: Mix all the ingredients together in a bowl with a whisk!
Next time I make this, I may try to add in a bit more flour to thicken it a bit more. Perhaps a half cup in total…
Put it Together: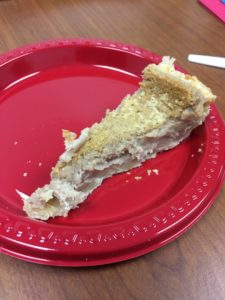 Roll out your pie crust on a floured surface to about 1/4 inch thickness. I tend to do a couple rolls, shift the dough around a bit, reflour everything, and roll some more. Helps ensure the dough doesn't stick to the counter. I used a 9″ pie pan.
Transfer the dough to your pie pan. Remove any extra crust around the edges
Pour the filling into the pie pan and carefully transfer to the oven.
Now, the original recipe called for a 40-45 minute bake time. I did not do this… I baked it about about 65-70 minutes. I was just waiting for a toothpick to come out relatively clean once I pierced the filling (at 40 minutes, it was still liquid). So… go with you instinct. Once it cools down, the filling will gel up.
Once it's out the oven, I chilled it overnight and then served it to my lab at lunch the next day. It was gone within an hour!
(yes, we're a super classy lab with  plastic knives for cutting and red plates for serving)