Been a long time since I posted a recipe. I did bake a few weeks ago for my sister's birthday, but I didn't really document that recipe. Apparent the baked goodies had an excellent reception, so perhaps I'll remake them and actually document them.
Enough about the past. Here we are, the start of November. Halloween has left us, daylight savings has come and gone (or is it still here as the clocks are still turned back…?), the NYC marathon has happened, and people are growing out their facial (or body) hair for Movember to raise awareness for men's health.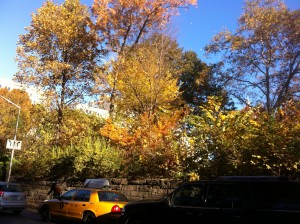 Fall is here.
I did not celebrate Halloween, unless you consider giving a 3 hour massage to be a celebration, but I did see some fantastic costumes (one of the members of my lab was a pterodactyl!!) and some less fantastic costumes (I don't understand the "sexy __(fill in profession)___"). But to me, the bestest part of Halloween is THE CANDY SALES!!! November 1st rolls around and suddenly all the Halloween candy is unacceptable and goes for 1/2 off. But lets be honest. We all know there are enough preservatives in the candy to let them keep for a thousand years. So of course I go on a shopping spree… because I love candy?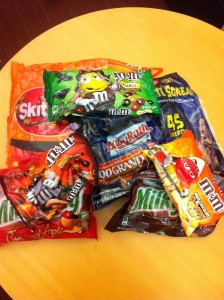 I don't actually.
But apparently I have this total fear that this will be the last chance EVER to buy candy!!! It must be some remnant of a survival/hoarding mode from  hunter-gatherer days… or so I tell myself. But to be fair, I do share the candy, and generally use it for baking purposes. And that is how this recipe came around. Thanks to the genius of M&M with Peanut Butter (the best kind ever!)
This recipe is definitely an experiment that I concocted in my head as I was heading to my chiropractor. I knew I had the M&M's but didn't know how to make them into something interesting. Cookies seemed too simple. So of course I fall back on cupcakes! Chocolate cupcakes! But why not throw some PB in there for fun? I've made chocolate cookies with PB centers before… WHY NOT CUPCAKES?
And that's exactly what I've done here. Chocolate Cupcakes. Peanut Butter Centers. Chocolate frosting. With Peanut Butter M&M's.
What?
Yup.
So without further adieu, let me Cher this recipe with you (Hi Vani and Mik!)
Chocolate Cupcakes with Peanut Butter Centers!
cupcake recipe adapted from Cuisine At Home (my mom had this one her desk several years ago and I snagged the recipe ).
frosting from FoodNetwork
Ingredients:
The Cake-
3 cups flour
2 cups sugar
1/2 cup unsweetened cocoa powder
2 teaspoons baking soda
1 teaspoon salt
2 cups hot water
3/4 cup vegetable oil
2 tablespoons white vinegar
1 tablespoon vanilla extract
PSSST!!! this cake recipe is also vegan!!!!
Peanut Butter Centers-
1/2 cup smooth peanut butter (I used Skippy)
1/2 cup confectioners sugar
1/2 teaspoon vanilla extract
~1 tablespoon heavy cream
The Frosting-
1 lbs confectioners sugar (a whole box!)
3/4 cup unsweetened cocoa powder
7-8 tablespoons heavy cream
1 teaspoon vanilla extract
ALL THE PEANUT BUTTER M&M'S YOU WANT!
1. Preheat oven to 350 degrees. Place cupcake wrappers in cupcake pan. I only have a single 12-cup cupcake pan, but if you have 2 of these, line all 24 cups. I only prepared the 12 and then also prepared an 8″ round pan for the extra. Because of the vinegar/baking soda reaction, I didn't want to let the batter just sit around while the first batch of cupcakes baked.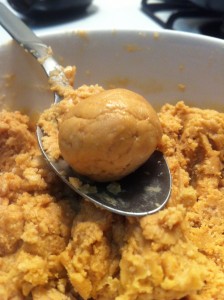 2. Make you PB centers first. Combine the PB, confectioners sugar, vanilla extract, and half the heavy cream in a small bowl and start mixing. If you're having difficulty combining the mixture into a paste, add more heavy cream. This mixture should be pretty thick, about the consistency of fresh Play-Doh. Make small balls with the mixture, about a teaspoon size. Make sure you have enough for however many cupcakes you're going to make. And maybe keep rolling if you are planning on making the 8″ pan too. Set these aside.
3. Sift flour, sugar, cocoa, baking powder, and salt in a large bowl. In a large measuring cup, mix the oil, vinegar, vanilla, and hot water. Add this mixture to the dry ingredients and whisk together. You'll notice that it bubble quickly because of the vinegar/baking soda reaction. YAY! 3rd grade science still works in my kitchen. Make sure the batter is fully mixed together (I whisked for ~3 minutes).
4. Divide your batter into the cupcake cups and/or cake pans. Place a single ball of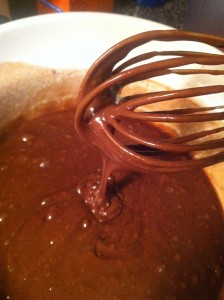 PB center in each of the cupcake cups. If you're going the cake pan route, then also add some PB center to this if you like. I kinda just threw it on top in random bits. I had a plan of making long "ropes" of the PB mixture and forming a nice lattice on top, but I lost patience….
5. Bake until a toothpick inserted (not through the PB) comes out clean. About 25 minutes for cupcakes and 45 minutes for the cake. Remove from oven, allow to cool for ~8 minutes, then transfer to a wire rack to continue cooling.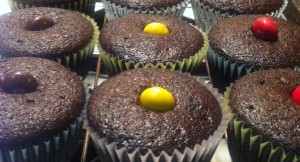 6. For the frosting, sift confectioners sugar and cocoa together in a large bowl. In a medium bowl, cream butter and vanilla extract. Add about 1/4 of the sugar/cocoa mix to butter and 3 tablespoons heavy cream. Beat thoroughly. Add ~1/2 of the remaining sugar/cocoa mix and 2 more tablespoons cream and beat again. Add remaining sugar/cocoa and 2 more tablespoons for heavy cream. Beat until completely combined. I stopped at 7 tablespoons heavy cream, but if you want a lighter, more pliable frosting, perhaps add a bit more cream.
7. Place an M&M in the center of each cupcake (if you notice, the seem to have formed a hollow center. I assume the PB expanded when in the oven and contracted when it cooled, leaving a little "cave" in the middle of your cupcake. Then Frost away and decorate to your liking. Same with the cake, if you made it!